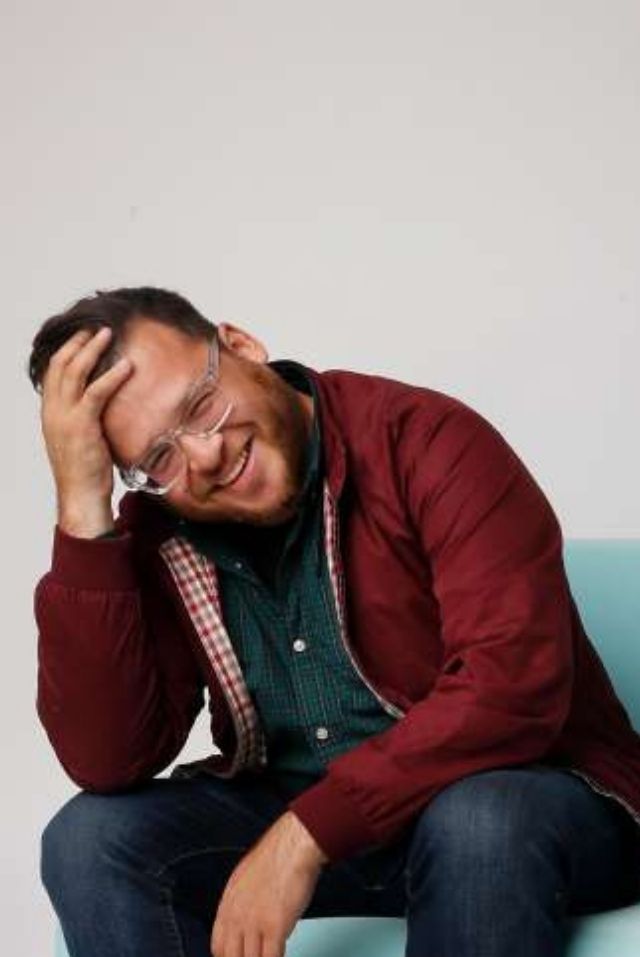 Q&A with Playwright christopher oscar peña
Recently, Associate Artistic Director Chanel Bragg sat down with christopher oscar peña, ATC Artistic Associate and playwright of the upcoming production how to make an American Son, which is premiering at ATC and this summer. In addition to being a playwright, peña is currently a television writer for several shows on HBO, Hulu, and ABC.
Q: When did you first discover your love for writing?
A: College. I was always a reader, but it wasn't until college that I ever really started writing things down in earnest … and started taking what I had to say seriously. It sounds crazy, but it wasn't until the great playwright and mentor Naomi Iizuka pulled me aside and said, "You're a storyteller," that I realized I could put things into words on paper and build something out of them.
Q: How did you cultivate that love into a profession?
A: Many people go to college to find themselves and to discover those passions. I think because I was the son of immigrants, finding myself felt like it should come with a purpose; it cost too much (literally) to just do that for pleasure. When I figured out I wanted to be an artist, I applied to the most competitive schools, programs, and fellowships. I figured if I couldn't get into some of those, then the real world after that might be too hard or not worth it. But every year, as long as I could crack one yes, I knew I was on the right path; I didn't need the whole road right away, just one brick in front of the other.
Q: Where did you study to build your craft?
A: I think my best education has been reading and watching everything I can … but I studied dramatic art at UC Santa Barbara (truly my best education), where I was mentored by Naomi Iizuka and Anne Garcia-Romero. They opened a whole world to me and taught me about their contemporaries, who I then felt raised me: Luis Alfaro, Daniel Alexander Jones, Lisa D'Amour, Chay Yew, Campo Santo, and so many more.
Q: What is a piece of advice that has stuck with you throughout your career?
A: Find your tribe. Finding value in your career is nearly impossible because this business is nonsensical (and also racist and classist and on and on). Where I have found true joy is in the community that I am a part of. Don't find joy in competing with others, find joy in lifting others up. Then their win is your win.
Q: What advice would you want to impart on the next generation interested in playwriting?
A: Every story has been told; what makes a story and a writer unique is THEIR VOICE – YOUR VOICE – it's all you have, so learn to love it and revel in it … learn the rules so you can break them.
Q: How important is it to tell brown and black stories and see them reflected on the stage?
A: It is important for us to center the voices of those who have been on the margins for far too long, whether that's people of color or immigrants or queer people or differently abled bodies … we need to hear new voices … we need to make room for more … we need to stop centering straight white voices and demanding that the rest of us bend and twist ourselves to find our way in. It's time we learned how to hear other voices that are different from us, and realize that's not just okay, THATS BETTER.
Q: What inspired your play "how to make an American Son?"
A: I wanted to write a love letter to my father. I see too many stories where black and brown fathers throw out their queer kids. I see too many stories where queer kids are told they won't have a home or a family if they are themselves. That wasn't my experience and it wasn't the experience of many I know. My father brought flowers for the first guy I ever dated when they met. My father took me to Cher and the Backstreet Boys and Madonna concerts. It was important to me that black and brown queer kids know that we can and will be loved, too. And then, I wrote this play because I'm constantly wondering: What does an American look like? Who gets to be an American?
Q: What changes do you think are necessary in order for the entertainment industry to be more inclusive?
A: More people of color have to be in positions of power. Enough with panels and meetings where we talk about the problem – WE KNOW WHAT THE PROBLEM IS … we've been talking about it forever. Put your money where your mouth is: commission more artists of color, hire more artists of color to direct, your staff should look like the city you are a part of.
Q: If you were a superhero, what superpower would you want to have?
A: The villain in me wants mind control … the superhero in me wants to be able to read people's minds. Maybe it's a way of saying I want to understand.
Q: What would be your professional wrestling theme song music?
A: Harry Styles' "Lights Up." Don't judge me … I love that song.
Q: You have done some incredible things in your career; what is your proudest moment.
A: The first time my parents saw my name on a TV screen is hard to beat. These immigrants, who came here with nothing, and didn't even speak the language, to see their kid's name on screen, that felt pretty special. I'm always trying to give them something back, to remind them that their sacrifices were worth something. And I think being in the same room as them when they see this play is going to be pretty damn remarkable.