Connect with us!
Sign up for our Educator Email List to receive regular updates. TUCSON | PHOENIX
For questions regarding ATC's educational programming, contact MJ Okawa.
Teacher Preview Night
Teacher Preview Night is an opportunity for educators to preview a production before their school group attends the Student Matinee performance. Teacher Preview Nights are scheduled on the first preview for each show (Saturday evening) in Tucson and the second preview for each show (Friday evening) in Phoenix.
Educators who have already booked Student Matinee tickets will be given priority. Each invitation must be RSVP'd by filling out the associated online form. Remaining tickets will be limited and are on a first-come, first-served basis. When tickets have run out, educators can request to be added to a wait list.
Educators must meet the following requirements to receive the Teacher Preview Night invitation:
Currently teaching for an Arizona public, private, charter or homeschool group
On our email list for all education programming
Zero previous "no shows" for the last 2 Teacher Preview Nights
One week prior the Preview Night, you will receive an email with a code for two free tickets to see the show. Dates for each Preview night are below.
2023/2024 Teacher Preview Nights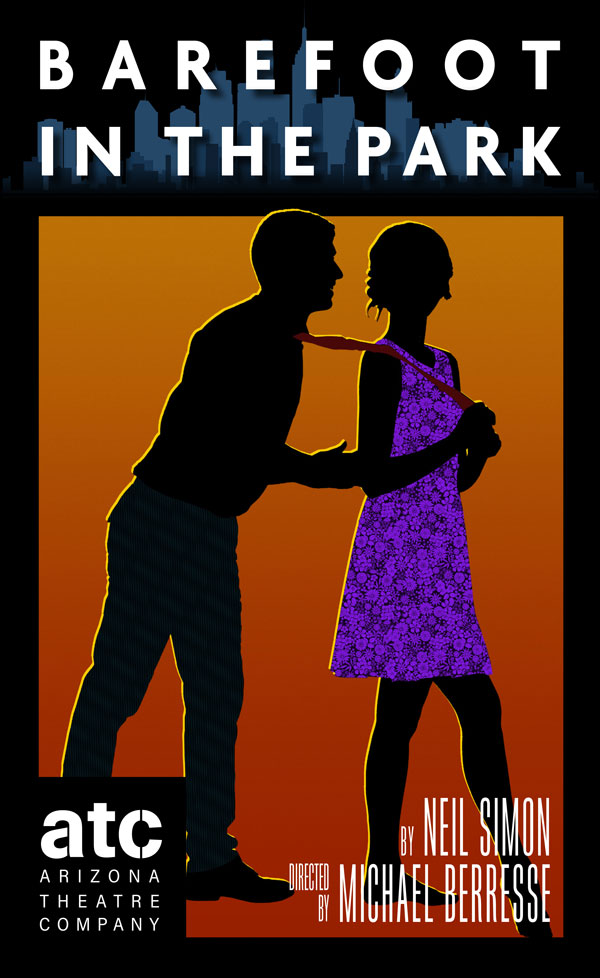 Barefoot in the Park
By Neil Simon
Tucson: Saturday, September 23 – 7:30 PM
Tempe/Phoenix: Friday, October 20 – 7:30 PM
Neil Simon's most beloved romantic comedy, Barefoot in the Park opens as blissful ambitious young newlyweds struggle to get along in their Manhattan fixer-upper apartment, all while under the gaze of the bride's neurotic mother and eccentric upstairs neighbor. In a case of opposites attract – Paul is a successful lawyer known for his conservative and practical nature and Corie a sexy adventure seeker – they quickly face newlywed challenges that can try the best of marriages. Considered one of America's best rom-coms, Barefoot in the Park is among the top 10 longest-running non-musical plays in Broadway history, and it was turned into an Oscar-nominated movie.
---
Scrooge! A New Holiday Musical
By Leslie Bricusse
Tucson: Tuesday, November 7 – 7:30 PM
Tempe/Phoenix: Sunday, December 10 – 11 AM
Adapted from the Oscar-nominated film Scrooge comes a Christmas musical spectacular by Oscar-winning, Grammy-winning, and Tony-nominated composer Leslie Bricusse. Scrooge: The Musical is a groundbreaking adaptation of Charles Dickens' A Christmas Carol filled with songs that are as impressive as the ones he wrote for Willy Wonka and the Chocolate Factory. The story follows the miserly Ebenezer Scrooge as he goes on a fantastical journey through his life over the course of a single Christmas Eve night. After a warning from the ghost of his business partner Jacob Marley, the Ghosts of Christmas Past, Present, and Future take Scrooge on a musical adventure that leads him towards his hopeful redemption. In a new version created uniquely for ATC, Scrooge will be the perfect holiday fare for families and audiences of all ages.
---
Intimate Apparel
By Lynn Nottage
Tucson: Saturday, January 20 – 7:30 PM
Tempe/Phoenix: Friday, February 16 – 7:30 PM
Two-time Pulitzer Prize-winning author Lynn Nottage's play Intimate Apparel tells the story of a 1905 successful African American seamstress who makes revolutionary undergarments for an array of women – from high-society socialites to enterprising ladies of the night. Her business acumen, innovative skills, and utter discretion are much in demand, but at 35, her personal life has taken a backseat. Intimate Apparel explores her forbidden relationships with an Orthodox Jewish fabric vendor, her privileged and struggling clientele, and a long-distance suitor who will profoundly change her life.
---
Master Class
By Terrence McNally
Tucson: Saturday, March 2 – 7:30 PM
Tempe/Phoenix: Friday, March 29 – 7:30 PM
Master Class, the Tony-winning play by Terrence McNally, tells the story of the uncompromising opera diva Maria Callas as she delivers a life altering master class to students at an elite opera training program. During the class, she encounters three vastly different students who are by turns hilariously crushed, soulfully uplifted, and profoundly inspired by her singular artistry. Based on a series of real-life classes Callas delivered at Juilliard, Master Class inspires us, transports us, and transforms us by carving a window into the soul of one of the most complicated and celebrated artists of the 20th century who pushed the boundaries of artistic sacrifice and quality.
---
True West
By Sam Shepard
Tucson: Saturday, April 27 – 7:30 PM
Tempe/Phoenix: Friday, May 24 – 7:30 PM
Sam Shepard's Pulitzer-finalist and Tony-nominated play True West is a Cain and Abel story of brotherly love and sibling rivalry set against the Dreams of the American West. Successful screenwriter Austin settles in to housesit his mother's desert home to write his next screenplay, while his brother Lee, an alcoholic drifter, arrives to rob the neighborhood. A hysterically twisted story unfolds as the estranged brothers torment each other until they are forced to collaborate on a screenplay for Austin's producer with the promise of a huge Hollywood payday. Ultimately reversing roles and finding themselves in each other's shoes, the two brothers discover that this town 'aint big enough for the both of them.
---
Not on our email list?
Sign up for our Educator Email List to receive regular updates: TUCSON | PHOENIX
Questions about these, or any upcoming educational events? Email us!